AATK Home / 2004 Conference /Hotel registration/ Program / Visitor Info/
---
The AATK 2004 Conference and Workshop
June, Wed 23-Sat 26, 2004


Duke University, John Hope Franklin Center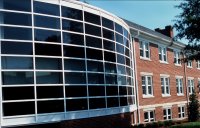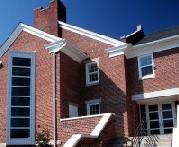 ---
Conference Site and Hotel

All conference sessions will be held at Franklin Center, which is located on the campus of Duke University, Durham, NC. Look here for detailed directions to the Franklin Center.

The hotel, Brookwood Inn, is located in Durham, within the walking distance from Franklin Center and Duke University West Campus. Double rooms are available to conference participants. If the participants want single occupancy, they should pay for the extra expense, about $40.00 each night. Participants must register on-line by May 31 to be guaranteed a room.
Brookwood Inn Durham
2306 Elba St.
Durham, NC 27705
Tel: 01-919-286-3111 01-919-416-3293
Close to the hotel, within walking distance, is the Ninth Street where various restaurants and shops are. The University of North Carolina at Chapel Hill is 20 minutes away by car, and North Carolina State University in Raleigh is 45 minutes away.
The hotel is approximately 20 minutes by car or shuttle from the Raleigh-Durham airport (RDU). Various forms of transportation from the airport to Brookwood Inn is available.


Traveling to AATK 2004
Air Travel
The main airport is Raleigh/Durham International Airport (RDU), which is served by all major airlines. RDU is located about 20 minutes east of Duke University on Interstate 40. Airport Information number: 01-919-840-2123x3.
Travel from the Airport to the Brookwood Inn, Durham

Hotel shuttle service is available from the airport to Brookwood Inn ($15.00 per person): the service requires advanced reservations and so call the hotel ahead of time (919-286-3111; 919-416-3293). Taxi service costs approximlately $30 one way: see RDU taxi info.

For the adventurous, rental cars from all major carriers are available at or near the airport. Driving directions from RDU airport to Brookwood Inn Durham are:

Take I-40 West toward Durham/Chapel Hill.

Merge onto the Durham Freeway (N.C. 147) via exit number 279B.

Take the Elba St/Trent Dr exit -- exit number 15A.
Take the Elba St ramp and stay straight to go onto Elba St.
Driving to Durham

The drive to Durham from the major cities in the southeast can be done easily in a day. Durham is located near the intersections of Interstate 40 and 85. To gauge driving times, the trip from Washington, DC to Durham takes approximately 4.5 hours, and from Atlanta, GA to Durham takes approximately 6 hours. Maps of the area can also be found on-line at Map Blast, Map Quest, Yahoo Maps. To find directions to Brookwood Inn, enter 2306 Elba Street, Durham, NC 27705 as street, city, state and ZIP code.



Visitor information

Durham


To help plan your trip to Duke:

Popular attractions on campus include:
Ninth Street: Walking distance from the hotel; free hotel shuttle service available to this area

Places to eat
include:
Bahn's Cuisine, Chinese and Vietnamese fast food

Blue Corn Cafe, Latin American

Elmo's Diner

George's Garage, seafood bar and grill, bakery, to-go food market
Vin Rouge, French

Restaurants include:
Another Thyme, American and ecclectic
James Joyce, Irish pub
Pop's, Nouvelle Italian
Satisfaction, Pizza and bar
Taverna Niko's, Greek
Chapel Hill

Franklin Street: The UNC area

---