The major aim of Shuxing's research is to develop the robust and nonlinear control algorithms for the structural control system using ER/MR dampers. Further research may include the interaction of the controller dynamics and structural behavior.
Shuxing graduated from Tianjin University in China with both a BS and MS in Structural Engineering. He is currently a PhD candidate in Civil Engineering.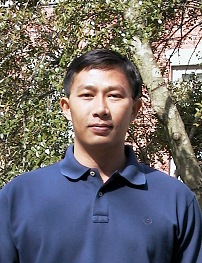 Chaval Chompucot

Chaval has studied mechanical models to represent the ER and MR dampers' behavior. The research group is looking for a mechanical model that can characterize the behavior over a wide frequency range, and has minimum number of parameters. This model should be computationally simple. The result is that an algebraic model is the only model that meets the above critiria.

Chaval did his undergraduate work at the United States Military Academy at West Point. He is currently a candidate for a Masters Degree in Civil Engineering (Structural), for May 2000

Mark Dobossy
Undergraduate in Civil Engineering, Class of 2001
David has been a contributing team member for four years. His first project was to build a data acquisition interface box used in the lab's experiments. He designed three electrorheological dampers which were tested recently. His latest work explores both analog circuits to experiment with control algorithms and digital solutions for real-time control.
Mr. Hoang graduates in May 2000 with a B.S.E. in Electrical Engineering and Biomedical Engineering and will be joinging Dell Computers in July 2000.

Sam joined the research group mid-semester in Spring 2000, and has been working with the Matlab programming language and WinCon lab software. Coupled together, this will enable the research group to program the dampers to respond instantaneously to earthquake vibrations.
Sam graduated from St. Paul's School in Concord, NH, and is a member of the Class of 2003 at Duke.
Natasha Avinash Oka
MS Civil Engineering, Class of 2000
Steven joined this research group as part of an independent study for the Masters of Engineering Management Program, from which he will graduate in May. He designed and built this site, and has spent the summer learning the JAVA programming language. He has developed a program modeled after a program Dr. Gavin wrote designed to model multi-DOF structural dynamics.

He obtained a BSE in Civil and Environmental Engineering in May 1999, will obtain the MEM in May 2000, and will be joining Buzzsaw.com in San Francisco, California, this summer.