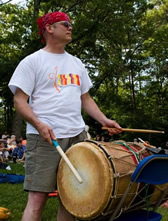 Percussionist John Hanks of Durham, North Carolina, is a 1980 graduate of the University of North Carolina School of the Arts. He is the Staff Associate Music Director for the Duke University Dance Program, where he accompanies dance classes, teaches music, and maintains the Dance Program's website, among other duties. He was also percussion instructor in the Duke Music Department from 1987-2012.
A musician for the American Dance Festival since 1984, he accompanied them to Seoul, Korea in 1991-92 and traveled to China with them in 2012 and 2014. From 1992-2003, he was percussionist for the Jazz Dance World Congress, where he worked with Jazz Dance Masters Gus Giordano, Matt Maddox, and Frank Hatchett. John performas annually with the North Carolina Youth Tap Ensemble in their Spring concert, and also plays for their annual NC Rhythm Tap Festival that features notable tappers: Michelle Dorrance, Derick Grant, and other.
He played drums for the North Carolina Jazz Repertory Orchestra, 1991-2008, Jim Ketch, Director. As a jazz drummer he has performed with many notable artists, including: Randy Johnston, Hod O'Brian, Wyclif Gordon, Jon Metzger, Mose Allison, the Glen Miller Band, Stephanie Nakasian, Butch Thompson, Scott Hamilton, Warren Vache and Mary Lou Williams.Currently, he performs locally with the Willie Painter Band, Black Dog Syndrome, and others.
In 1990, Mr. Hanks founded the Philidor Percussion Group, and has performed frequently with the Mallarme Chamber Players, Duke Chapel Choir and Orchestra, the Chamber Orchestra of the Triangle, the North Carolina Symphony, and the Greensboro Symphony Orchestra. He plays drums/percussion locally for many touring and local musical theater shows, including Theater Raleigh, North Carloina Theater, and Durham Performing Arts Center.
He composes electro/acoustic percussion scores for dance and has released three CDs of his dance class work: Here Come the Drums (1999), Drumjazz (2001), and Percussion Jams for Dance (2004), which are used by teachers worldwide. He has also recorded CDs with the Gregg Gelb Swing Band, NCJRO, Jon Metzger, Kirk Ridge/Black Dog Syndrome, and UNCSA faculty Ron Rudkin, among others.
Professional Activities

Drumjazz.com, John's website for his dance class CDs: Drumjazz, Here Come the Drums and Percussion Jams.
Duke Dance Program, John is full-time staff musician here. The Dance Program offers a variety of classes and offers a Major in Dance.
American Dance Festival John is a long-time faculty musician
Duke University Chapel Choir (Timpani and percussion) A great choir in a wonderful space, directed by Dr. Rodney Wynkoop
North Carolina Theatre Broadway shows and musical theater.
Theatre Raleigh Bringing intimate professional theatre to Downtown Raleigh.
The Willie Painter Band Rock and Blues
Black Dog Syndrome Indie singer/songwriter Kirk Ridge's electric band, based in Durham
The North Carolina Jazz Repertory Orchestra Jim Ketch, artistic director. Drummer from 1991-2008.
Chamber Orchestra of the Triangle Lorenzo Muti, conductor. Timpanist, 1990-2007.
Jazz Dance World Congress John played drums for Gus Giordano from 1991-2003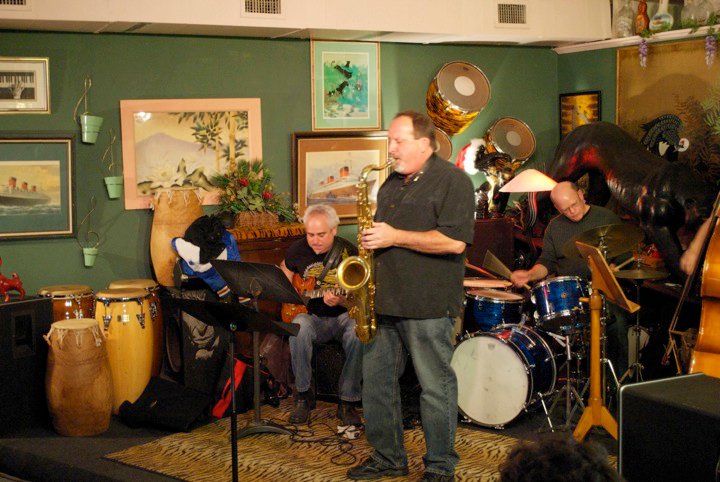 Jamming at Marsh Woodwinds, Raleigh, NC, with Scott Sawyer, Jack Wilkins and others at the David Via Memorial, 3/14/2010