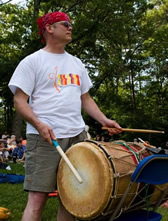 Percussionist John Hanks of Durham, North Carolina, is a 1980 graduate of the University of North Carolina School of the Arts. He is the Staff Associate Music Director for the Duke University Dance Program, where he accompanies dance classes, teaches music, and maintains the Dance Program's website, among other duties. He was also percussion instructor in the Duke Music Department from 1987-2012, but he decided to "retire" because the Duke Dance Program has become so busy!
A musician for the American Dance Festival since 1984, he accompanied them to Seoul, Korea in 1991-92 and traveled to China with them in 2012 and 2014. From 1992-2003, he was percussionist for the Jazz Dance World Congress, where he worked with Jazz Dance Masters Gus Giordano, Matt Maddox, and Frank Hatchett. He played drums for the North Carolina Jazz Repertory Orchestra, 1991-2008, and the Gregg Gelb Swing Band since it's inception in 1991. As a jazz drummer he has performed with many notable artists, including: John Brown, Wyclif Gordon, Jon Metzger, Mose Allison, the Glen Miller Band, Stephanie Nakasian, Butch Thompson, Scott Hamilton, Warren Vache and Mary Lou Williams. Mr. Hanks founded the Philidor Percussion Group and has performed frequently with the Mallarme Chamber Players, the Chamber Orchestra of the Triangle, the North Carolina Symphony, and the Greensboro Symphony Orchestra. He plays drums/percussion locally for many touring and local musical theater shows, including Theater Raleigh, North Carloina Theater, and Durham Performing Arts Center. He composes electro/acoustic percussion scores for dance and has released three CDs of his dance class work: Here Come the Drums (1999), Drumjazz (2001), and Percussion Jams for Dance (2004), which are used by teachers worldwide. He has also recorded CDs with the Gregg Gelb Swing Band, NCJRO, Jon Metzger, Kirk Ridge/Black Dog Syndrome, and UNCSA faculty Ron Rudkin, among others. Currently, he performs locally with the Willie Painter Band, Black Dog Syndrome, and jazz vibraphonist Steve Hobbs.
Professional Activities

Duke Dance Program, John is full-time staff musician here. The Dance Program offers a variety of classes and offers a Major in Dance.
American Dance Festival John is a long-time faculty musician
Duke University Chapel Choir (Timpani and percussion) A great choir in a wonderful space, directed by Dr. Rodney Wynkoop
North Carolina Theatre Broadway shows and musical theater.
Theatre Raleigh Bringing intimate professional theatre to Downtown Raleigh.
Dance Class Music CDs by John Hanks Drumjazz, Here Come the Drums and Percussion Jams CDs.
The Willie Painter Band Rock and Blues
Black Dog Syndrome Indie singer/songwriter band based in Durham
The North Carolina Jazz Repertory Orchestra Jim Ketch, artistic director. Drummer from 1991-2008.
Chamber Orchestra of the Triangle Lorenzo Muti, conductor. Timpanist, 1990-2007.
Jazz Dance World Congress John played drums for Gus Giordano from 1991-2003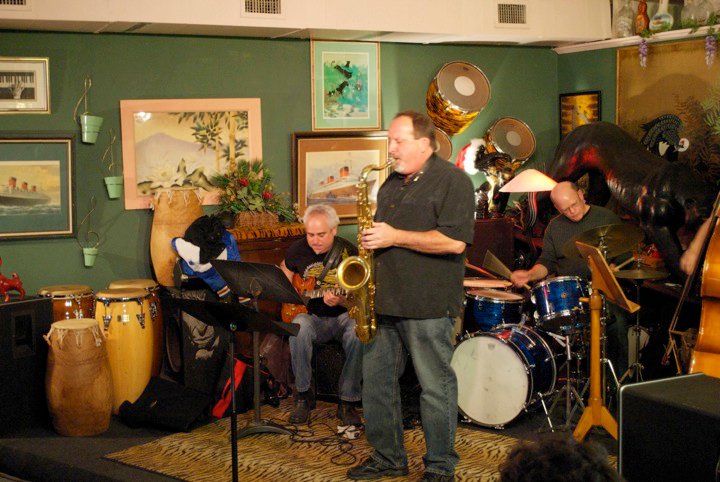 Jamming at Marsh Woodwinds, Raleigh, NC, with Scott Sawyer, Jack Wilkins and others at the David Via Memorial, 3/14/2010
SPECIAL THANKS: I was incredibly lucky to have had access to great teachers at different times in my life. At age seven, my first lessons on snare drum were with a student at Duke University, Frank Bennett, who was also a fabulous Jazz drummer. After a career in Indian classical music playing mridungam, Frank is now a busy orchestrator in Hollywood. In my middle and high school years, I studied with composer, and former percussionist, David Maves and Duke student, Fred Jenness. David taught me how to utilize the classic snare drum technique book Stick Control, by George Stone. Fred drilled me on rudiments and also taught me about musicality on drumset. During the summers in Newport, RI, where my father had a summer teaching job, I studied snare drum with Philip Peletier and I played, at 14 years old, with the Newport Concert Band, which furthered my skills in musicality and professionalism. The Newport Band's percussion section was manned by experienced New England-style rudimental drummers, who were also members of the local musician's union. I then studied during my senior year in high school with J. Massie Johnson at the then N. C. School of the Arts, now called University of North Carolina School of the Arts (UNCSA). I entered Duke University as a freshman in order to study Jazz with saxophonist and Jazz educator Jerry Coker, who taught at Duke for one year. I also studied with a young Rick Motylinski, who was just beginning his tenure as Principle Percussionist with the North Carolina Symphony. Not finding Duke a very good fit, I transferred, at Jerry's recommendation, to the University of Miami in Coral Gables, FL. The music school had a very stimulating atmosphere (1975-76), but I also took lessons in town with Steve Bagby, who at that time was not on the faculty there, and Harry Hawthorne, who was on the faculty of UM. Guitarist Stan Samole was another teacher at UM who was very influential, especially for ear training and jazz conception. I dropped out of school for a year, returning to Durham where I was able to study with Al Ashley. I returned to UNCSA, earning my bachelor degree in 1980. During my last two years at NCSA I performed in the Broadway revue at Carowinds Themepark in South Carolina, and was hired by the Charlotte Symphony as primary auxilary percussionist, where I befriended and studied with Principle Percussionist, Peyton Becton.