PhD

Research

Slides that cover the below (PDF): Fillable, Tapering Phantom: Applications for PET Image Quality Assessment.

Positron emission tomography (PET) is a nuclear medicine diagnostic imaging exam of metabolic processes in the body. PET performance and image quality degrade as patient body size increases due to poorer acquisition statistics. Recently available time-of-flight instrumentation and image reconstruction methods for PET will, theoretically, improve the quality of raw data and reconstructed images for larger patients (diameter >20 cm). The long-term goal of my project is to measure TOF and non-TOF PET image quality for a range of sizes, a variety of radioactivity distributions, and a variety of attenuation distributions.
To measure PET scanner performance and image quality over a wide range of sizes, a novel fillable, tapering phantom (i.e., a plastic container that can be repeatedly filled with radioactivity and scanned) was designed and built. The phantom's diameter ranges from 17 to 44 cm over a length of 31 cm and has a mass of 42 kg when filled with water. To approximate cancerous lesions and measure image quality, 1.0-cm spheres were filled with a sphere-to-background radioactivity concentration (18F-FDG in water) of 8:1 and positioned throughout the phantom's volume. A 1.0-cm size sphere is a useful metric because it is at the edge of lesion detectability for current PET scanners. Using these lesions with this phantom, the image quality improvement of time-of-flight over conventional PET has been parameterized as a function of body size. A multisphere phantom (below), analysis algorithms, and a fillable, tapered phantom (left) that have already been developed will be good tools for evaluating image quality improvements using TOF PET compared to non-TOF PET as a function of size. With additional simulations and acquisitions, the phantoms will be validated as tools for measuring a continuum of cross-sectional dimensions in PET imaging.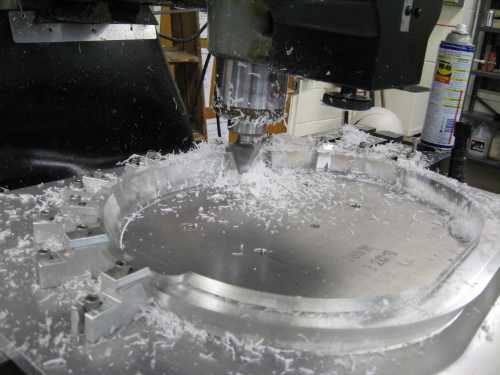 As a result of my research, I am able to take a circumspect approach to designing phantoms for image quality measurements that considers PET system and processing parameters including: sensitivity, spatial resolution, count rate, and reconstruction. Having authored and modified image analysis algorithms I am able to manipulate image formats (e.g., DICOM, raw sinogram) and work with several coding languages (e.g., C, Bash, MATLAB, Perl). Along with image analysis algorithms, I have a general understanding of Monte Carlo software features, and a specific working knowledge of the SimSET Monte Carlo software.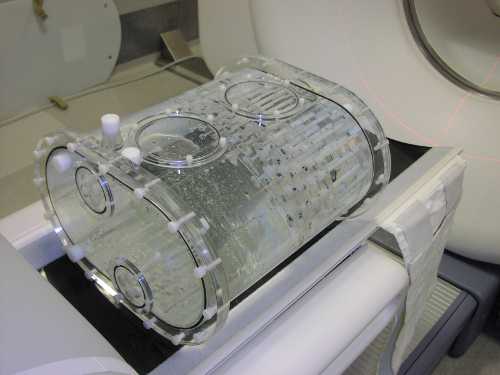 I have participated in multiple PET/CT phantom studies and system performance testing on the Duke PET Facility's GE Discovery ST, STE, and 690 PET/CTs. Thus, I am capable of drawing dose, acquiring images with the routine "clinical interface" on the scanner, reviewing and analyzing images, using the system's research tools, and manipulating system files that allow: changing energy thresholds, modifying acquisition and reconstruction protocols, and writing scripts that measure system performance. I have authored and implemented QC and PET acquisition protocols that are routinely used in our clinic.