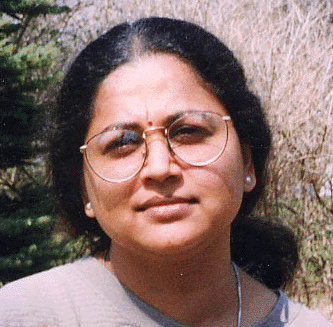 LEELA PRASAD directs the DukeEngage-Hyderabad program. She is Associate Professor of Ethics and Indian Religions in the Department of Religion at Duke University. She received her PhD in Folklore and Folklife from the University of Pennsylvania in 1998. Her interests are in ethics and its 'lived,' expressive dimensions, particularly in Hindu contexts. She also works in the areas of colonial and postcolonial anthropology of India, folklore, narrative, gender, and the South Asian American diaspora. In Poetics of Conduct: Narrative and Moral Being in a South Indian Town (Columbia University Press, 2007), she draws on a decade of ethnography in Sringeri, a well-known Hindu pilgrimage town in South India, to explore relationships between oral narrative, ethical discourse, and the poetics of everyday language. This book was awarded the American Academy of Religion's 2007 prize for the "Best First Book in the History of Religions."
Leela is currently writing her second monograph, titled Annotating Pastimes: Cultures of Narration in Colonial India, in which she studies how the collection and publication of Indian folklore between 1860 and 1920 intertwined with earlier Oriental interests and created a paradigm for the subsequent anthropology of Indian cultures and societies (see article in Cultural Dynamics on this work). Her co-edited volume, Gender and Story in South India presents ethnographic research by Indian women scholars on Hindu and Muslim women-centered oral narratives performed in different cultural and linguistic settings of South India (SUNY Press, 2006).
In 1999, she guest-curated and conducted ethnographic research for an exhibition on Indian American life in Philadelphia, editing and contributing to its catalogue of essays, Live Like the Banyan Tree': Images of the Indian American Experience. She also co-directed with Uma Magal a video documentary called Back and Forth: Two Generations of Indian Americans at Home. As a fellow at the John Hope Franklin Humanities Institute at Duke in 2005-06, she returned to this work to explore how images of time in the public imaginary create, reflect, and mediate the notion and experience of "diaspora." In Summer 2008, Leela directed the first DukeEngage program in Hyderabad, India, where she and her husband, Dr. Baba Prasad, supervised Duke students who volunteered at economically underprivileged schools in Hyderabad teaching literacy through the visual arts and communicative English.
Leela is fluent in the Indian languages of Kannada, Telugu, Marathi, and Hindi. Leela serves on the faculty boards of the Center for Documentary Studies, and the Kenan Institute for Ethics. She is Vice-Chair of the faculty board of the Duke Center for Civic Engagement. From October 2008 through January 2009, Leela was Visiting Fellow in the Visual Culture, Postcoloniality & Globalization program at the S.N. School of Performing Arts, Fine Arts & Communication, University of Hyderabad.