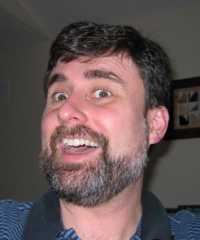 James Madill
Senior Analyst

Duke Health Technology Solutions
Messaging Team
---
---
Responsibilities: I have worked for Duke University Medical Center since June 1988. In September of 1992, I transfered from the Department of Cell Biology to MCIS, to be the AppleTalk/Macintosh Network Systems Analyst in the newly formed group, NST. I also redesigned and upgraded our core smtp mail infrastructure.

Past projects: For the first six years in MCIS, most of my time was spent involved with cc:Mail. I designed, implemented, and maintained the core of our 80+ post office, 8000+ user cc:Mail system at the Medical Center. User accounts have since been migrated to Lotus Notes Mail. I am also one of the MCIS Webmasters. I started the Medical Center home page in 1993 as a home page for Medical Center web browsers. It has since been moved to the Medical Center Library's Administration team and subsequently updated and redesigned. I also created many of the MCIS Web pages. I built a Forms Routing database system for E-mail forwarding addresses. It uses Sybase and Perl routines with a Web front end. Duke Personnel can access instituitionaly available software from our software distribution server. I have also explored more advanced features of the web for new applications. I was the architect of the original migration of the CSN FDDI backbone from a single (bridged) AppleTalk network to a routed AppleTalk Internet.
---
Interests: Astronomy building an airplane, My house, Dakota, Darts, Flying, Garden Railroading, Pool (9-Ball & Snooker), Swimming, Tabatha, Woodworking.
---
Last Updated: Wednesday, October 20, 2004
©1996 - 2004 James Madill