Vintage Country Music
<![if !vml]>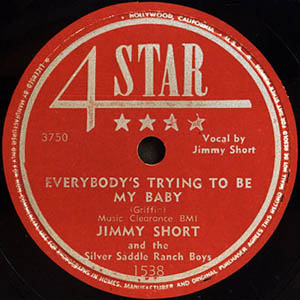 <![endif]>By vintage, I mean: pre-WWII commercial country music (or any other old-time string band music); western swing; and post-War electrified honky-tonk of the west-of-the-Mississippi variety (adherents of this style came from all over, but Texas and California were fertile breeding grounds). Even some of the Nashville-style stuff, especially those songs with the witty lyrics (although I certainly take points away for girlie choruses or strings that are too prominent).
Radio Show
I've done radio shows featuring this sort of music on several college and community radio stations in Texas and North Carolina: KANM (student radio at Texas A&M University in College Station, TX), KEOS (community radio for Bryan/College Station, TX), and WXDU (student radio at Duke University). (I've been an employee, however, at these universities, not a student.) When the show has focused on vintage country, I've called it A Broken Heart and a Glass of Beer, after a song written by Alan Flatt (a great Ernest Tubb sound-alike!) and recorded by him and by Hank Thompson and the Brazos Valley Boys, around 1950.
Right now, the show is on a hiatus.
I've archived playlists from my WXDU shows:
1999 playlists
2000 playlists
2001 playlists
2002 playlists
2003 playlists
2004 playlists
2005 playlists
2006 playlists
Note: The ones through March 5, 2000, are drafts, or notes, that may not accurately represent what I actually played on the show. They also don't have information about the album from which I played the song. Beginning with March 12, 2000, the playlists are fairly accurate records of what I played and do include album information.
My show would start with some old-time recordings--from fiddle tunes to charming sentimental favorites--and maybe some singing cowboys; then moves on to some western swing (both pre-war and post-war); then some late 1940's material, such as King Records stuff and Merle Travis or early Ernest Tubb. I usually finish off the first hour with an inspirational number; then on to some later 40's and early 50's honky tonk songs; moving on to the Texas dancehall sound (Ray Pricey shuffles) and Bakersfield material.
Under-Appreciated
A truly under-appreciated variety of country music is the semi-old-time stuff that has a touch of the electric, done in the 40's and 50's by performers with an Appalachian background. Sort of an updated variety of old-time music. The kind of music recorded by the Bailes Brothers (from West Virginia), Molly O'Day (from Kentucky), and Clyde Moody (from North Carolina). This material, often recorded by King records in Cincinnati or by Columbia, usually featured mostly acoustic instruments except for an electric (but non-pedal) steel guitar and maybe a hollow-body electric lead guitar. I find the steel playing of Shot Jackson on many of the Bailes Brothers recordings and Speedy Krise on many of the Molly O'Day recordings to be especially satisfying. Also, "Duck" Atkins on Johnnie & Jack recordings. Lots of old timey tremolo and swooping sounds. Go to the really excellent Lap Steel Guitar web site for more info about pre-pedal steel guitars and related instruments and the musicians who played them, as well as links to lots of other steel, slide, resonator, and Hawaiian guitar web sites.
---
Links to web sites relating to rootsy and folkie music:
[ Record Companies | Magazines ]
[ Top | Mark Thomas's home page. ]
---
markt@duke.edu
Last Update: 18-Jul-11
http://www.duke.edu/~markt/music.htm