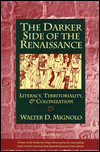 Walter D. Mignolo,
The Darker Side of the Renaissance: Literacy, Territoriality, and Colonization, 2nd ed.
, University of Michigan Press, 2003.
Afterword to the 2nd Edition
.
Walter D. Mignolo, The Idea of Latin America , Blackwell Publishing, 2005. .
Writing Without Words: Alternative Literacies in Mesoamerica and the Andes, Elizabeth Boone Hill and Walter D. Mignolo, ed., Duke University Press, 1994.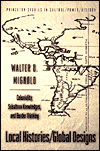 Jose De Acosta, Natural and Moral History of the Indies (Chronicles of the New World Encounter), Jane E. Mangan, ed., with an Introduction and Commentary by Walter D. Mignolo