---

WWWFinance -- Reported Bond Prices
Copyright 1995 by Campbell R. Harvey and Stephen Gray. All rights reserved. No part of this lecture may be reproduced without the permission of the authors.
Latest Revision: December 1996.


---
General Information
Face Value Amounts: The face value of a corporate bond is usually $1000. While it is possible to buy a single bond, they are usually sold in lots of 100. US Treasury bonds have face values ranging from $1000 to $1,000,000. The face value of a bond is often referred to as its Par Value.

Price: The price of a bond is almost always reported as a percentage of face value. A price of 96 for a corporate bond with a face value of $1000 means that is can be bought for $960. If the price is 100, then it is said to be priced at par. The only exceptions to this are some esoteric bonds such as CMO Residuals which use their actual dollar price as their price.

Maturity Date: The maturity date of a bond is the date when the last payment is made.

Coupon Payments: Most bonds pay two interest payments per year. At one time, the buyer of a bond would take possession of the bond certificate, which had several coupons attached. These coupons could be presented at appropriate dates in exchange for the interest payments. Because of this, interest payments are called coupon payments, and the interest rate that the bond issuer pays is called the coupon rate.
The coupon rate is expressed in annualized nominal terms. For a bond which pays semiannually, the coupon payment will equal one half the coupon rate times the face value.
Some bonds are issued with no coupon payments, and pay the face value at maturity. Naturally, these bonds are sold at a discount (less than par). They are called zero coupon bonds. They can also be called pure discount bonds or strips.
Bonds backed by home mortgages (such as those issued by GNMA, FNMA and FHLMC) pay coupons on a monthly basis.
Accrued Interest: in BA 350 most of the bonds we are looking at have exactly one period until the next coupon period. But people need to price bonds at other times. Bond prices reported in the financial press exclude the accrued interest of the current coupon period. If, for example, we are one third of the way through a coupon period, then the accrued interest will be one third of the coupon payment. One thing that can make this calculation confusing is that U.S. Treasury bonds and Corporate bonds use a different convention for counting time between two dates.
See Day Counting for more information.
Callable Bonds: Occasionally, a bond has a maturity date expressed as a range, for example: "August 1996-01." This means that the bonds may be redeemed at any time between August 1996 through August 2001.
---
Treasury Notes and Bonds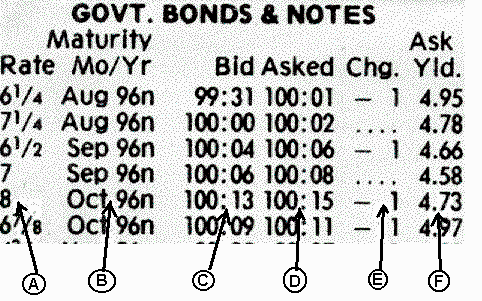 | | |
| --- | --- |
| A. | Coupon Rate |
| B. | Maturity Month and Year. n indicates a Treasury Note. |
| C. | Bid Price (price for which the bond can be sold). Price is a percent of Par, expressed in 32nds of a point. A price of 100:13 means that the bond can be sold for 100 13/32% of the face value. |
| D. | Asked Price (price at which the bond can be bought). |
| E. | Change in price from the previous trading day. A value of +1 means that the price increased by 1/32. |
| F. | Yield of the bond at the Asked discount rate. This is a semiannual yield using an Actual/Actual day count. |
---
Treasury Bills
| | |
| --- | --- |
| A. | Maturity Date |
| B. | Days to Maturity |
| C. | Bid Discount Rate (Rate for which the bond can be sold). |
| D. | Asked Discount Rate (Rate for which the bond can be sold). |
| E. | Change in discount rate from the previous trading day. A value of +0.03 means that the rate increased by three basis points (or 0.03%). |
| F. | Yield of the bond at the Asked discount rate. This is a semiannual yield using an Actual/Actual day count. |
---
Strips (Zero Coupon Bonds)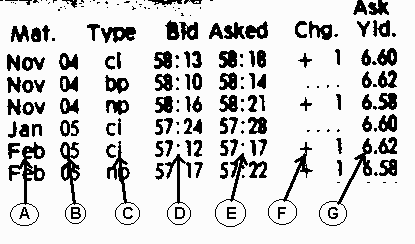 | | |
| --- | --- |
| A. | Month of Maturity. |
| B. | Year of Maturity |
| C. | Type of Stripped bond: Coupon Interest, Bond Principal or Note Principal. |
| D. | Bid Price (price for which the bond can be sold). Price is a percent of Par, expressed in 32nds of a point. A price of 58:13 means that the bond can be sold for 58 13/32% of the face value. Zero coupon bonds have no accrued interest. |
| E. | Asked Price (price at which the bond can be bought). |
| F. | Change in price from the previous trading day. A value of +1 means that the price increased by 1/32. |
| G. | Yield of the bond at the Asked price. This is a semiannual yield using an Actual/Actual day count. |
---
Corporate Bonds
| | |
| --- | --- |
| A. | Bond identifier, including company ID, coupon rate and maturity information. |
| B. | Current Yield. This is equal to the coupon rate divided by the cost |
| C. | Volume traded on the NYSE bond trading floor. |
| D. | Closing Price (Closing price at which the bond was sold). Price is a percent of Par, expressed in eighths of a point. The price excludes accrued interest for the current coupon period. |
| E. | Net change in price from previous day's close |
---