The following railroad depots and structures are, to the best of my knowledge, no longer standing. They were razed, burned, fell down, or were destroyed in wrecks. If you know of any errors here, please contact me at markt@duke.edu
I have a collection of negatives and slides of U.S. depots mostly taken in the 1980's through the early 1990's, mostly south of a line running from Buffalo, NY, to San Francisco, CA, and with a concentration in the southern plains (Texas, Oklahoma, Kansas). I'd like to add other depots to this page. If you know of any depots standing about 10-15 years ago that are now gone, please contact me at markt@duke.edu so I can see if I have a photo of it, and if I do I'll put it up on this page.
Texas had a law through about the1950's that corporations doing business in the state had to be incorporated there. National corporations had to form separate Texas subsidiaries or purchase a previously existing Texas company. A company like the Santa Fe or Southern Pacific might have several Texas subsidiaries, whose names often turn up in Official Guides and other literature of the time. I'll usually list the "Texas" version of the company that operated this particular line at the time the structure was built, with the "real" railroad in parentheses, even though it may long have been part of the larger national system.
All images © Mark A. Thomas.
---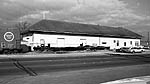 Bryan, Texas
International-Great Northern (Missouri Pacific)
Seen on February 17, 1985.
This was a 1940's replacement station. An earlier depot on this site, which burned, was a standard IGN brick "hammerhead" design (two large bays on either side of one end), similar to ones in Rockdale and Marlin, Texas. After Union Pacific absorbed MoPac, the station seen here was razed, on December 20, 1990. Full image 66 KB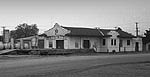 Cameron, Texas
Gulf, Colorado & Santa Fe (ATSF)
Seen on November 29, 1981.
The Gulf, Colorado & Santa Fe, although beginning as a separate railroad running north from Galveston, became one of the Atchison, Topeka & Santa Fe's Texas subsidiaries before the end of the 19th century. This 20th century depot looks like a typical Santa Fe "county seat" combination station of the sort found throughout Kansas, Oklahoma, and Texas. (Cameron is the county seat of Milam County.) Note the Santa Fe cross incorporated into the brickwork at the top of the end gables. The depot was gone by December 1982. Full image 51 KB

Carson City, Nevada
Virginia and Truckee
Seen on August 19, 1983.
This cut stone engine house dated, I believe, from the 1860s. Although in a sad state here, I remember hearing that it was more completely destroyed in a fire, although I don't know if any of the walls remain. Full image 90 KB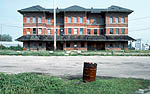 Clinton, Illinois
Illinois Central
Seen on June 26, 1985.
Clinton was where three IC lines crossed, warranting this substantial station: the line from Gilman (on the main line south of Chicago) headed to St. Louis; an east-west line from Champaign to Havana, IL; and a north-south line from Freeport, IL, to Centralia. Full image 78 KB

Lake Charles, Louisiana
Kansas City Southern
Seen on July 25, 1983.
At one of the southern terminuses of the KCS. The plaque dates from after KCS acquisition of the Louisiana & Arkansas, which itself never had a line into Lake Charles. Full image 66 KB Plaque 142 KB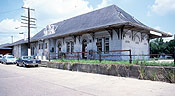 Lake Charles, Louisiana
Southern Pacific
Seen on July 25, 1983.
The line is on Espee's Sunset Route and the depot was on Railroad Avenue. Burned around the late 1980's. Full image 89 KB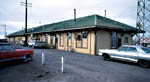 Lordsburg, New Mexico
Southern Pacific
Seen on December 29, 1982.
Also on Espee's Sunset Route, this was razed on November 24, 1988 (per an informant). Full image 64 KB


North Zulch, Texas
Trinity and Brazos Valley (Burlington-Rock Island; Burlington Northern)
Seen on September 26, 1984.
This classic depot (or, part of one, since it looks like the freight portion is missing) survived into the 1980s, when it was crushed by grain-filled 100 ton covered hoppers after a derailment. Full image 119 KB

Roxboro, North Carolina
Norfolk & Western
Seen on October 29, 1984.
This was on Norfolk and Western's Lynchburg, VA, to Durham, NC, branch, built as the Lynchburg & Durham Railroad from 1887-1890 and absorbed by the N&W shortly thereafter. Remarkably, an earlier 19th century frame station of the L&D is still standing, having been moved back from the track and used for storage. Full image 66 KB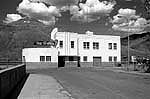 Salida, Colorado
Denver & Rio Grande Western
Seen on August 16, 1983.
This beautiful art deco station was in the town in the Arkansas River valley, on Rio Grande's Royal Gorge/Tennessee Pass line, where at one time the original narrow gauge main line had split off to the west to go over Marshall Pass and through the Black Canyon of the Gunnison. The Rio Grande travelled "Through the heart of the Rockies, not around them." Full image 80 KB

Ashfork, Arizona
Atchison, Topeka and Santa Fe
Seen in December, 1972.
This depot (and Harvey House) was on Santa Fe's main line through northern Arizona. Sorry it's a little fuzzy. Full image 40 KB

[ Top | Railroad Station Historical Society ]
---
markt@duke.edu
Mark Thomas's home page
Last Update: 10 Jan 2004
http://www.duke.edu/~markt/gone.htm