Using the World Wide Web in Marketing:
An Exploration of the GE WWW Server
Professor John M. McCann
Fuqua School of Business
Duke University
March 20, 1995
Updated January 29, 1997
---
To get an understanding of how a firm might use the Internet to increase its value chain, we will examine General Electric's WWW efforts. GE maintains a Home Page at www.ge.com which serves as a both gateway into its various services and businesses and as a repository for information about GE itself. As of the beginning of 1995, this corporate information was multimedia in nature: textual information about the company, numbers and pictures in its Annual Report, an audio jingle about the company, and a video piece.
GE Plastics: Adding Value Through Information
To understand this application, picture yourself as an engineer who designs parts and products made from plastic materials. GE positions itself as the industry leader and innovator in engineering plastics, and thus wants to help you do your job. To that end, GE maintains a Web presence to offer technical tips, description of its product line, detailed profiles of the property values of each material, processing guides with recommendations for using the materials in injection molding applications, design guides for recommendations on designing applications, and online access to technical support resources. Let's look at several of these items.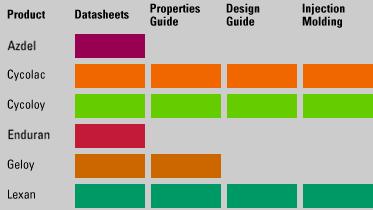 GE has registered trademarks for its plastics, thus creating a brand for each one, a portion of which are shown here in an image taken from the GE Plastics Products page. For each brand, GE provides a data sheet, properties and design guides, and information on injection molding of the plastic.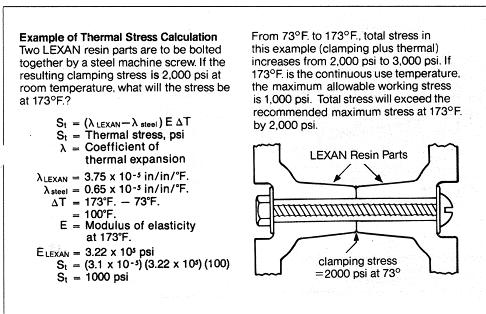 Clicking on the Design Guide link brings you to another page with a short discussion of the product in terms of how it can be used, along with links to more information on each of its properties. Clicking on Thermal Properties leads to a page about the brand's thermal properties, including links to property tables and illustrations like the one on the left for the Lexan brand.

If you werer to select Application Analysis from this list, you would get detailed information on the engineering analysis that you would need to undertake the design parts using the material. For instance, you would get the appropriate equations for calculating tensile stress and bonding stress under different loads and conditions.
This is a customized engineering textbook that has been organized by product. It provides the equations and guidance that is needed when using this material in the design of a product. If you were investigating a different plastic brand, you would get a different page which could have entirely different engineering advice and guidance. An advanced version of this type of application became possible on the Web in March 1995 when Mathsoft, Inc. introduced Mathbrowser, a new World Wide Web browser that permits a "live document" that contains mathematical equations. "Mathbrowser has a computational engine and interface derived from Mathcad, allowing you to edit a document's equations and variables and watch as answers and graphs automatically recalculate themselves. Like Mathcad, it combines the "what-if" capabilities of a spreadsheet, the output of a graphics package, the mathematical formatting of an equation editor, the power of sophisticated numerical algorithms and rolls them all together in an easy to use live-document interface." So, instead of GE Plastic providing the equations and formulas as an image on the screen, the firm could put an interactive, "live" version of the equations on the Web that could be loaded into Mathbrowser by GE's customers as they design plastic products and processes.
These screens are only sample of the information provided by GE Plastic. This application is clearly aimed at building brand equity through information. As an ex-engineer who had several plastics design problems, I know that it would have been invaluable to me. With the information easily assessible over the Internet, an engineer would naturally investigate the match between GE's products and his/her problem. It would likely become the source of first choice, and thus lead to adoption if the properties match the needs. In addition, once the brand is selected for an application, the server provides the other information that would be needed to complete the design.
Like an Online Consultant
This is like having a consultant available any time, any place. It marries service with a physical product to produce an entity that is highly desirable. To understand the service aspect, let's look at the service concept provided by a firm such as GE. It can be defined or thought of in two ways: 1) in terms of services performed for customers, or 2) in terms of results achieved for customers (James L. Heskett, W. Earl Sasser, Jr., and Christopher W. L. Hart, Service Breakthroughts: Changing the Rules of the Game, The Free Press, 1990, p. 26). That is, is the focus on the service itself, or on the results achieved via the service? It is argued that the latter leads to more success than the former, perhaps even to a service breakthrough that changes the rules of the game.

We have to stretch this definition a bit to make it apply to the case where information is being provided with a product, as is the case with GE Plastics. In this case, we look at the degree to which the information is designed to assist the engineer in accomplishing all aspects of the task associated with the product ... designing, manufacturing, and testing products based upon the plastic. When we look at the GE Plastics WWW application from this perspective, we see that it is clearly designed to assist in the actions, as opposed to being designed to simply provide information about the product. Thus the knowledge being put into the Web is about the use of the material, not just about the material itself.

What GE Plastics has done is create a form of a knowledge link , which has been defined as an "alliance through which a company sought to learn or jointly create new knowledge and capabilities."( Joseph L. Badaracco, Jr., The Knowledge Link: How Firms Compete through Strategic Alliances, Harvard Business School Press, 1991) The basic idea of the knowledge link is that a single company cannot hope to successfully compete in the global marketplace by accumulating all the knowledge it needs to perform its tasks. That is the reason, the story goes, why we see so many strategic alliances between firms: it is through these strategic alliances that firms are linking their knowledge together.

The GE Plastics division accumulates knowledge about plastics and their use, and they will link that knowledge to other firms on demand. A formal strategic alliance is not needed to obtain the knowledge (although there are parts of the application (the Plastics Education and Trouble Shooting System) that are only available to GE customers). Thus firms around the world link their engineers with the GE Plastics knowledge via the WWW.
Blurring of Education and Marketing
This application on the GE server is education oriented, and customer education will be a central use of the Web. Consider the comments of the president of an engineering-oriented firm:

"We are planning to use [the Web] for many purposes, including computer-based training tools for our customers, who are electronic design engineers," said David Pellerin, president of Accolade Design Automation. "Our Web page today includes a lengthy tutorial on a specialized language called VHDL [VHSIC Hardware Description Language]. VHDL is a standard language used worldwide for electronic product design. ... "We are planning to use [the Web] for many purposes, including computer-based training tools" (Kathleen Murphy, "Web Proves Useful as a Training Platform," Web Week, Volume 2, Issue 1, January 1996)

We are thus beginning to see a blurring between education and marketing for high knowledge-intensive products. GE is well aware of the importance of online education as witnessed by its Thermoplastics Education web site.