Adding Product Value Through Information
Professor John M. McCann
Fuqua School of Business
Duke University
January 28, 1997

---
This document is about how firms use the World Wide Web to add value to their products via the provision of information. Since I use Web sites to illustrate concepts and techniques, the document can quickly get out of date as Web sites disappear and/or change. Therefore, some of the examples may describe strategies and implementations that are no longer available on the Web. This situation is to be expected as firms evolve and change their strategies and approach to the Internet.

---
The concept of adding value to a produce through information is important in understanding the role that the Internet and the World Wide Web is an will play in marketing. We can identify two ways that a firm can add value by providing information: (1) about its products, and (2) about topics that are of interest to people who use the product class in which the firm competes.

GE Plastics is an example of how a firm can use extensive information about its products to add immense value to the phyisical products because they make it easy for customers to make product and brand choices, and to then design their own products and processes using GE's products. This topic is discussed in the paper Using the World Wide Web in Marketing: An Exploration of the GE WWW Server.

The following are examples of ways firms are adding value through providing information about topics that are of interest to people who use the product class in which the firm competes.

The basic idea that you build brand equity by providing a service to your potential consumers. In these examples, the "service" is information about things that would be of natural interest to your potential and actual consumers. Procter & Gamble appears to be relying heavily upon this approach to building brand equity. Visit some of their sites and you will find
This P&G approach can be contrasted to that of Colgate Palmolive, for instance, whose Web site is heavily weighted to presenting the company to the consumer (as of January, 1997) via topics such as A Tour of Colgate, Investor Relations, In the Community, and Professional World.
Another P&G competitor, Clorox, uses a similar approach, as shown in the image to the left, which was taken from the Clorox homepage on January 28, 1997. This approach is common on the Web.

Firms seem to want to use the Web to "talk" to the consumer about themselves, rather than about topics of interest to the consumer. Pet owners are interested in their pets, not pet food; mothers and fathers are interested in their babies, not diapers. Neither are at all interested in Purina and Clorox.
An advantage of providing the information: you provide your consumers with a reason to return again and again to your site if the information is changing and current.
Consider the following passage from the Gramercy Press site (I copied it on April 22, 1995):


Dear Visitor,

We're back with a new chapter that we'll call "Does Love Actually
Conquer All?"   In other words, you are about to re-enter the fascinating
world of Gramercy Press.  Where, virtually, anything goes.  Many of the
things you liked about this site the first time around remain. Needless to
say, with a few surprises. Now, and in the weeks to come. 
You can easily see that the authors of this site plan to attract "repeat visits" by making the content dynamic. Thus a Web site that uses related information to build interest is never finished; it is a living document that must be managed by meticulous and creative people.

There are other ways to make a site dynamic. The Ragu site has an opening message from the site host, Mama Cucina, that changes from visit to visit. The following are two such messages:

"Finding love is like looking for the perfect eggplant: it takes forever, but once
you find it?  Beautiful."



"Before, all the Internet had was gopher. Now you got pasta, you got chicken,
you got pizza..."

Although this is a concept that is easy to implement, it does provide a way to get the repeat visitor to read the material, rather than simply skip over it because the site has been previously visited.

AT&T has adopted a similar approach. Visit their site and click on the microscope part of their clickable map and you are taken to the microscapes gallery where you get a different microscopic image each day.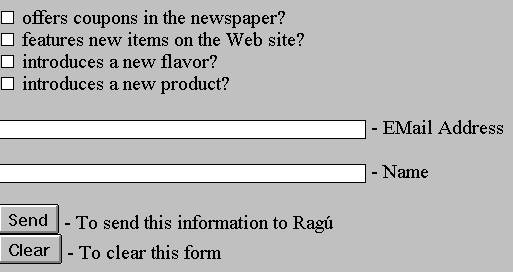 The Ragu site goes a step further by providing a means (the form shown here) for the visitor to request information via the Internet's email facility when the site has changed, or when Ragu has introduced new products or promotions. This is a unique feature of an interactive site that propels the Web into a new realm of marketing ... interactive marketing. The marketing-oriented magazine Advertising Age includes a section on interactive marketing in every issue. A purusal of this magazine for the past year reveals that the focus has shifted from CD-ROMS and 500 cable channels to the World Wide Web, indicating that the Web is the interactive technology that is hot among the advertising-oriented marketing community.
Getting people to visit and revisit a site is a known problem on the Web. One line of thought says that people will visit sites for that site's content, and therefore it is the current content providers who stand to gain the most from the spread of the Web. One example of this line of reasoning is at Time Inc. and its Pathfinder site. The philosophy is to use its content to aggregate consumers, a concept promoted by Bruce Judson, general manager, Time Inc. New Media in a recent article (Scott Donaton, "Pathfinder Blazes a Trail To Ads," Advertising Age, April 10, 1995, p. 19):

"We believe the Internet is an extraordinary place for marketers.
Editorial products like Pathfinder will play a role in aggregating 
consumers and giving marketers an opportunity in a non-intrusive
way to present themselves to consumers, much like they do with
magazines."
The vision is that the Web is similar to a magazine which people buy to read the content and which advertisers use to communicate about their products. Just as Time charges for those ads in the paper version of its magazines, Time is now charging for ads in the Web versions; the rate on April 10, 1995 for a gateway link from Pathfinder to the advertisers home page was $30,000 per quarter. Clearly, there is value in using content to aggregate consumers.

The notion of aggregating customers can be applied in a market segmentation sense by building a site that attracts people with a common interest, such as tennis. When you visit this site, you find ads for tennis-related products along with information about tennis as well as links to other tennis sites.

Each marketer must decide what types of non-product information will be provided at the site. Sometimes this is an easy decision because the product is intimately attached to a broader set of activities. For instance, a bicycle is used in road races and an automobile is used to drive on vacation. So, an automobile company could provide information about vacation sites and vacation planning. There are times, though, when the brand's marketing strategy involves fitting the brand into the life style of its target consumer. In that case, the marketer may find it advantageous to develop an information resource that is not directly linked to the use of the product. We can see this latter situation at the Nissan Pathfinder site, which was developed by the Chiat/Day advertising agency using the following philosophy:


"In an effort to distinguish itself from the dime-a-dozen marketer Web sites,
Nissan hopes to make the Pathfinder home page a central resource for
outdoor activities.  ... The Nissan name is intentionally de-emphasized,
with minimal copy about the Pathfinder, a deal locator and a brochure
request form. ... The new site is consistent with Nissan's drive to present
Pathfinder as an integral part of a potential buyer's outdoor lifestyle."
(Raymond Serafin, "Nissan Takes Pathfinder for a Spin Online,"
Advertising Age, June 26, 1995, p. 28).
What is inherent in this note is that there is more to the product than the physical entity, as depicted in the following graphic.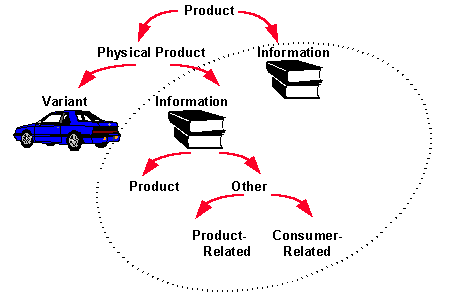 The product can be a physical product such as an automobile, or it can be an information product such as a book, magazine, or video. In the case of the latter, the product can be digitized and then it does not have to assume a physical form such as a book. The physical product is more than the atoms that compose its form ... it is also the information about the product and about topics related to the product, such as information about the activities and topics of interest to current and potential consumers. The Internet provides a medium for providing all forms of information, and thus adding value to the physical product via the digitization of all the types of information within the dashed ellipse.

Building "site loyalty" via dynamic content is not the only approach being espoused. An alternative view of the real power of the Internet involves the notion of building virtual communities (see The Virtual Community, Howard Rheingold, Addison Wesley, 1993) on the Internet that are populated by people with a common interest. Backers of this view are striving to expand the World Wide Web so that it can accommodate both content and communities. Dimension X, Inc. is one such company, as evidenced by this comment by its CEO:

 "The problem we have now is that you've got potentially millions of people
forming a community around a site, but you can't talk to them and they can't
talk to you. That's a shame."
The most common approach to building a Web-based virtual community is to implement a form of Internet Chat within the Web browser., such as sports oriented chat sessions.

The basic notion behind this approach to site loyalty is that people want to communicate much more than they want to retrieve content in the form of text, image, and video. The thought is that people will gravitate to sites where they can communicate with other people who share a common interest ... an interest that is also shared by the owner of the site. ESPN appears to be a natural source for both sports content and for sharing thoughts about sports with other sports-oriented people.