Let's write a simple application:
Go back to the DESIGN tab.
Open the STANDARD TOOL PALETTE and select the TBUTTON visual component.
Click on the FORM to place it there: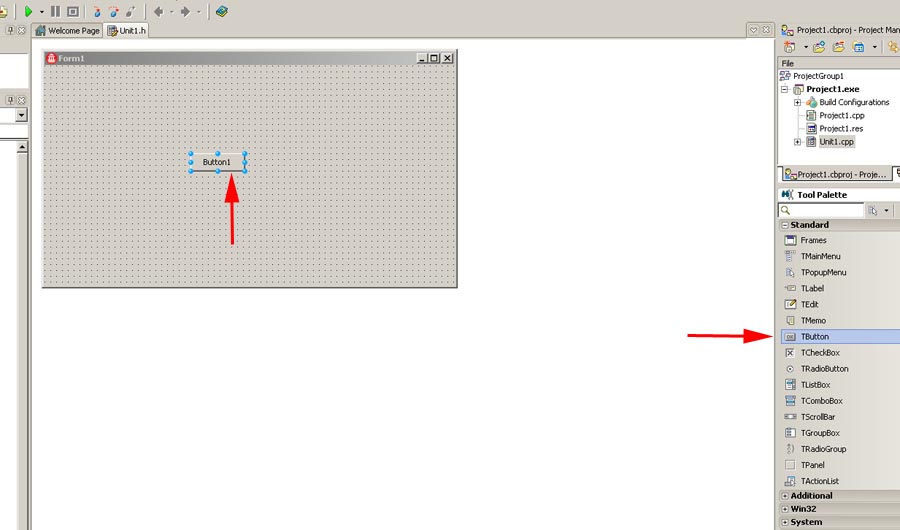 Double-click that BUTTON and RadStudio will automatically write the outer shell of an EVENT HANDLER for you.
When Button1 is CLICKED, the computer will go here to find out what to do:


Scroll up and you will see that the EVENT HANDLER has been added at the bottom of your SOURCE CODE.
Let's say we want Form1 to turn RED when Button1 is clicked.
As you type in the instruction, note that RadStudio will try to anticipate your intent.
This can be handy, but be careful; RadStudio cannot read your mind: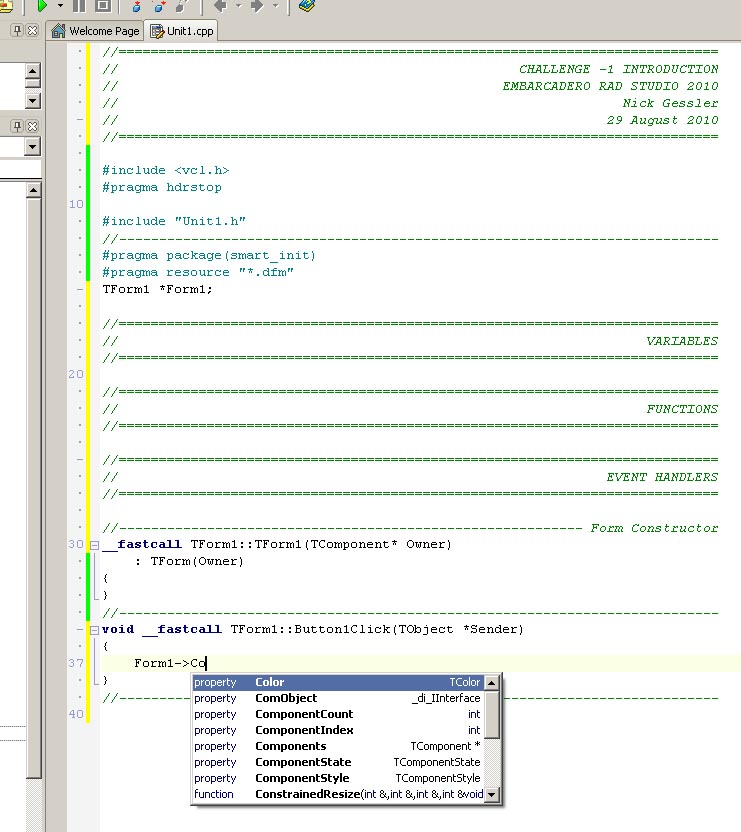 Note: You must fill in the body of an EVENT HANDLER or it will vanish after pressing the GREEN RUN ARROW.

NEVER write the outer shell of an EVENT HANDLER yourself. Let RadStudio create it.

NEVER delete the outer shell of an EVENT HANDLER yourself. Empty its contents. RadStudio will delete it.
Finish typing in the statement. Then press the GREEN RUN ARROW: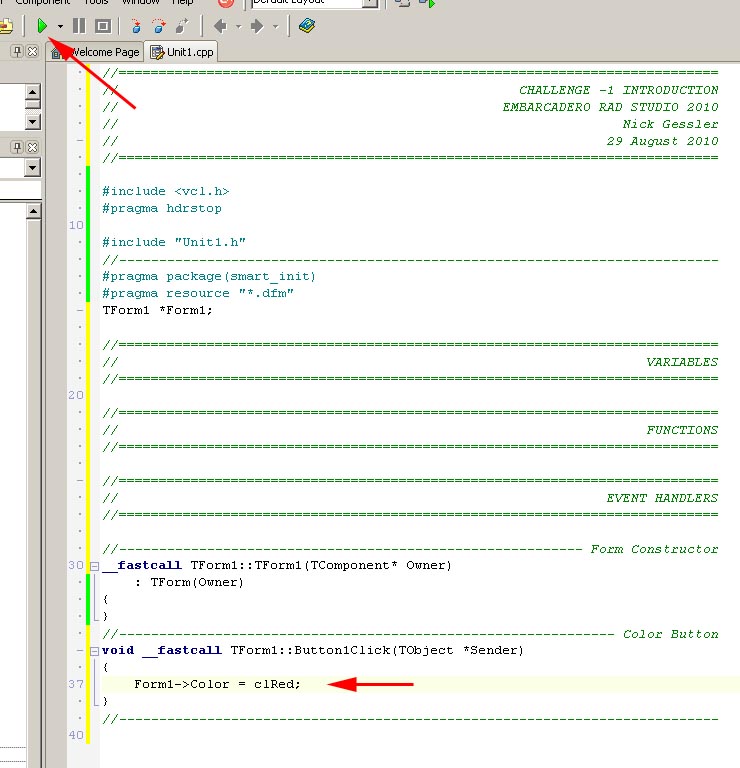 RadStudio will LINK, COMPILE and RUN (EXECUTE) your code.
Note that when your APPLICATION is executed, FORM1 has no guide dots on it:

Close the EXECUTABLE.
This will return you to RadStudio.
Test it. Press the BUTTON. The window, FORM1, should turn red.
Only when the APPLICATION is in RadStudio,
in the WYSIWYG FORM editor, under the DESIGN tab, will you see the guide dots: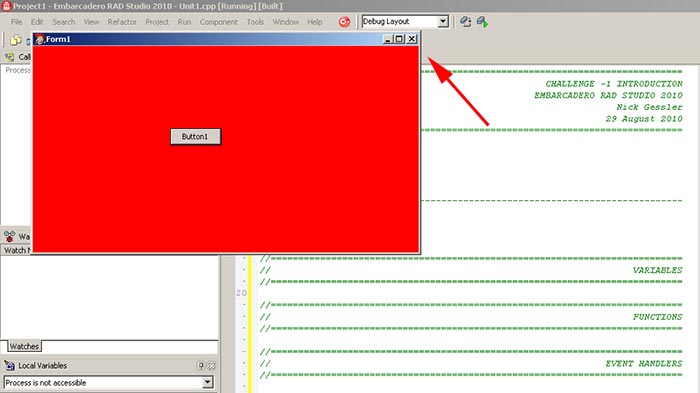 Every time your application compiles and runs without error, select FILE / SAVE ALL.
If you DO NOT do this and you mess up (which you will), you will have no backup.
!!! NEVER select FILE / SAVE PROJECT AS again. !!!
!!! NEVER NEVER EVER select FILE / SAVE PROJECT AS and direct it to another location. !!!

Select FILE / CLOSE ALL to end your work with RadStudio
Then close RadStudio itself.

!!! COPY your project FOLDER from the DESKTOP to your USB stick.. !!!
!!! COPY IT TO SEVERAL BACK-UP LOCATIONS. !!!
!!! FROM TIME TO TIME, EVERYTHING ON YOUR DESKTOP WILL VANISH WHEN YOU LOG OUT. !!!