WHAT YOUR SAVED PROJECT LOOKS LIKE:
If you open the folder in which you saved your project, you will find the following files:
View Icons

Some of these files are huge!
View Details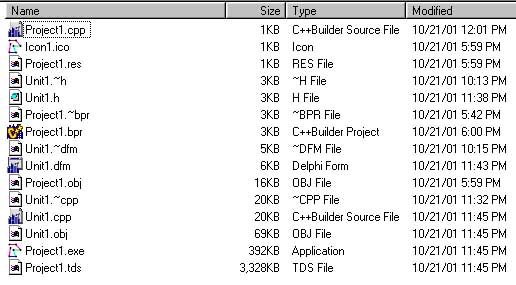 These files help the Borland Integrated Development Environment (IDE) keep track of your project and they and speed up the the processes which Borland uses to create your executable file (your finished program).
Borland's single purpose is to help you create an executable file. By default it is given the name "Project1.exe." Borland translates all your programming directives into a new language called "machine code" which can be directly understood by any PC computer. Your executable file contains that machine code. That single file can be renamed, copied and run on any PC computer.
Every time your press the GREEN ARROW, the C++ code that you have modified is combined with other code that Borland manages and then translated (compiled) into a new executable. That executable cannot be edited or changed, but Borland will create a new one every time you press the GREEN ARROW.
Fortunately you don't need all these files to reconstruct your project.