A Straddling Checkerboard Cipher
Thanks to Dirk Rijmenants for identifying this.
Please visit his superb site.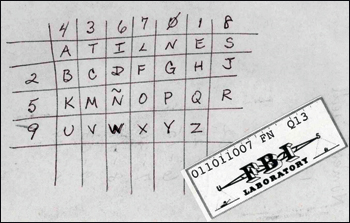 Courtesy of the FBI.
A "cheat sheet" according to the FBI. (Actually a straddling checkerboard as pointed out by Dirk Rijmenants.)
A table for decryption and encryption provided by Cuban Intelligence and found in Ana Belen Montes' home.
In use prior to September 21, 2001
The straddling checkerboard was presumably used in combination with a numeric one-time-pad.

The straddling checkerboard is built from several elements:
The keyword "ATILNES" indicates that there are 7 columns in the checkerboard, and thus 4 rows, accommodating up to 28 letters.
The numerical sequence "25943 67018, is thus parsed to indicate the 4 rows "-259" and 7 columns "4367018" of the "checkerboard."
The keyword "ATILNES" is entered in the first row, followed by the rest of the alphabet, entered below it in alphabetical order.
The letters in "ATILNES" occur most frequently in Spanish and are indicated by the single digits "4367018" thus reducing the size of the transmission.
The remaining letters are indicated, first by row (2, 5 or 9) and then by column (4, 3, 6, 7, 0, 1 or 8).

Encryption procedes letter by letter by giving the numerical coordinates of the row and column. If the letter appears in the first row, with the empty row index, then only the column index is used, a single digit. If the letter appears in any other row, then the two-digit coordinate is used. For example, to encode "Ana Belen Montes" one writes "40424 17105 35756 318".
Decryption procedes numeral by numeral interpreted as the row and column index of the cleartext letter. Any occurrence of a 2, 5, or 9 requires a 4, 3, 6, 7, 0, 1 or 8 following it and is a double-digit representation. Any occurrence of a 4, 3, 6, 7, 0, 1 or 8 which is NOT preced by a 2, 5, or 9 refers to the first row and is a single-digit representation. For example, when one decodes "40424 17105 35756 318," one arrives at "Ana Belen Montes."
Cryptanalysis: A statistical "in-context" analysis of both single-digit and double-digit neighborhoods and frequencies would reveal the row and column indices and the dimensional shape of the table and the codes for the most common letters. Apparently the One-Time-Pad (OTP) provides the security and the Straddling Checkerboard provides the conversion from numbers to plain text. But why do this on paper when the computer, which presumably does the OTP processing, could easily do the conversion?