Sand Tables
The Sand-Table House
Kuwait, April 4, 1991


SSG Bill Seija (left) and SSG Wally Coyle (right) at the entrance.

This was a palace belonging to a member of the royal family.

The Iraqis used it for a divisional headquarters.

The sand-table itself, a huge three-dimensional map of Kuwait,
was in a basement and measured about ten meters square.
By this time we could recognize just about everything on it.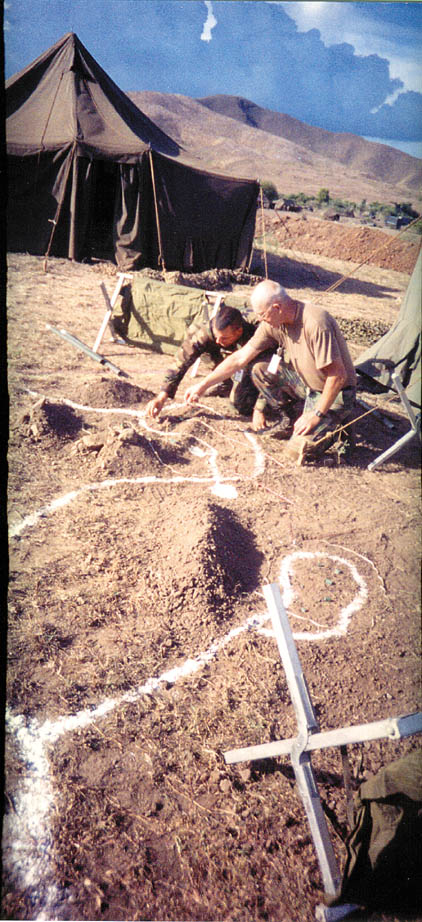 Pfc. Michael Sanchez of 135th Support Detachment Rear Operations Center, Kansas City, and Sgt. 1st Class Richard Rajkovick of 2175th Military Police Company, St. Clair, develop a sand table in Camp Santiago, Puerto Rico during Operation Caribbean Thunder. The Puerto Rico Army Reserve sponsored the recent training exercise, which involved more than 1,000 Guardsmen and Reservists. Photo by Stanley Bennett
Military Sand Table
Augmented and Virtual Reality

This is kind of military project that four users at the same time can use and interact with it. In this project a 3D map from aerial images is shown in a sand table along with some military objects (e.g. tanks, helicopter, airplanes). The roads in the map are detected by some image processing techniques for the tanks to move on these routes. Users can also have paddle interaction with the objects in the sand table.
War Gaming - Thinking for the Future
(A History of War Gaming)
Lt. Col. David B. Lee, USAF
A Short History of War Gaming
Col. Wilbur Gray
What Is Wargaming?
Historical Miniatures Gaming Society
Sand Tables for War Gaming
Excerpted from "TACTICS, The Practical Art
of Leading Troops in War" 1922