Cognition Lab
Research Focus
The Day Cognition Lab at Duke University studies a wide variety of topics in human cognition. Some focus on Basic Cognition (processes such as memory, comprehension, and problem solving), while others examine Everyday Cognition (how these processes operate in everyday life such as remembering to take medications, understanding jury instructions, and remembering dance sequences).
Lab Group
The lab group includes research assistants, graduate students, undergraduates, postdoctoral fellows, and visiting faculty. Research students come from programs such as psychology, computer science, engineering, linguistics, human factors, and law. Regular lab meetings focus on current projects as well as general research strategies.
Grant Support
Recent grants include funding from the National Science Foundation, U.S. Food and Drug Administration, U.S. Pharmacopeia, National Institutes on Aging, and the North Carolina Arts Council.
---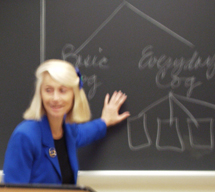 ---